They're More Than Shower Doors!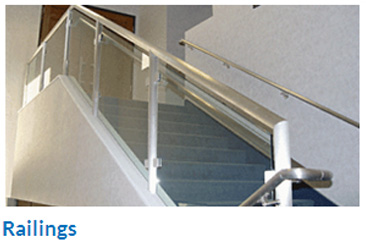 Temperglass shower doors are highly versatile, practical, beautiful and functional
Can you use shower doors as your office partitions? Why not? They were even used as perimeter fencing with amazing results. If they survived the harsher conditions of outdoors, there's no reason why they won't endure the gentler atmosphere inside the office. And if they made such a great impact among the trees and plants, they'd appear just as great among tables, chairs, cabinets and computers.
They'd look wonderful as railing guards, office entrance and exit doors. That's how versatile is Temperglass shower doors. They're so highly practical and exceptional that you can still find a lot of other uses for them if you want. They're perfect for salons and boutiques as cubicles. Their application is only limited by our imagination.
They're break and scratch resistant. There are multiple varieties of patterns, colors, sizes and thickness that you can choose from. This means that they are also available in different prices, which just as wonderful with your budget. There's no need to bust your bank account since they're so affordable.
We consider them as creative and elegant renovation materials.  Their presence can transform any place where they're installed into really something special. With over 50 designs available for you to choose from, there's going to be no shortage of ideas of what you can do with them.
They're called shower doors because they're built mainly for the bathroom. However, now you know that they're more than that. You can start planning what you want to do with them aside from using them in your bathrooms. They offer a lot of other uses such as table tops, counter tops or kitchen island tops. You can also utilize them for shelves and cabinets.  You're going to love using them in your house. They're cheaper renovation alternative having to overhaul your kitchen or bathroom.
We are selling a specific brand of shower doors. We include a lifetime warranty on all our products which carries the name Temperglass. It's not a generic name but a name protected by a patent. We are sure that our product can deliver and we limit our discussion here to them not including what other brands can provide.
Every aspect of Temperglass has been subjected to strict quality control from the time the glass was manufactured until they are delivered to your homes or offices. You won't any scratches or damages when they finally reach your homes or office.
What comes out from the kiln is a perfect product suitable for any use that we have described here. It can be tempered, decorated, laminated, tinted, acid washed and insulated to fit the project that you have in mind.
They won't fade with constant contact with water, soap, shampoo, hair conditioners or anything that you use when you take a bath. They're tough and will easily withstand any rough use that they may be handled from time to time. You can rely for them to perform with satisfaction wherever they are used.
There's only one shower doors West Palm Beach which has all these attributes and that's Temperglass.