BEAUTIFUL SHOWER DOORS
One of the easiest and most affordable ways to improve the style and value of any bathroom is to install shower doors. These sleek yet functional bathroom fixtures make any home look modern, sleek and luxurious.
Improves Sanitation
Traditional shower doors are built within a metal frame. These clunky, disruptive frames have crevices, nooks and other areas that can serve as a breeding ground for bacteria and germs. Dirt, debris and dust can build up within these deposits, effecting both the look and sanitation of your shower area, often resulting in unsightly stains and unwanted odors.
Shower doors, however, have no metal frames. So there are fewer areas for bacteria, dirt and germs to build up. This improves both the look and the safety of your bathroom. Your bathroom will look and smell cleaner and safer.
Easier to Keep Clean
Another benefit of shower doors is that they are easier to keep clean than traditional framed shower doors. They are mostly made of strong, tempered safety glass that can easily be swiped with a cloth or sponge. And because there are no metal frames, there are no corners, pockets or tracks to get grimy or to attract dirt.
A Sleeker, More Contemporary Look
Modern bathrooms have a cleaner, less cluttered look than bathrooms of only just a few decades ago. shower doors installed by Temperglass have an attractive, contemporary look that offers clean lines and uninterrupted beauty.
These sturdy yet functional bathroom fixtures are the shower doors people love because they add beauty and modern design to any shower area.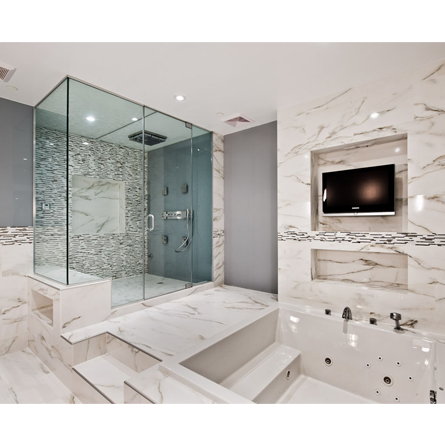 Get a Free Quote now!
Temperglass has exactly what you're looking for!
We have a selection of shower doors in Florida for every budget. We offer you only the highest quality shower doors and all South Florida region to your full satisfaction. We can meet all of your needs from a basic door to one with the most elaborate design; mirrors with and without bevel; table tops with a variety of shapes and thickness; European look shelves and brackets. Our Framed Doors come on these high quality anodized finishes: Silver (Chrome), Gold (Brass), Nickel, Brushed Nickel, Oil Rubbed Bronze and White.
AN IDEAL CHOICE FOR SHOWER DOORS
Our team of experts is highly trained in every glass related work, for commercial and residential. In our shower door store, we offer you tempered and laminated glass options for 1/4", 3/16", 3/8", 5/16", 1/2" and 3/4".
All parts and finishes of any hardware provide by Temperglass on shower enclosure installation is warranted to the original consumer purchaser to be free from defects in material and workmanship for as long as the original consumer purchaser owns their home. Temperglass will replace, FREE OF CHARGE, during the warranty period, any Hardware part or finish that proves defective in material and/or workmanship under normal installation, use and service.
Temperglass Corp. does NOT warrant against Glass Breakage, glass surface damage, chips or scratches on glass.
The tempered safety glass sold and installed by Temperglass corp. is warranted to have been manufactured as applicable International Building Code standard.
This warranty does not cover any claim arising from abuse, misuse, negligence, leakage, abrasives, accidents, improper operation, or natural disasters. This warranty pertains exclusively to shower enclosures and its hardware.
If the work performed by Temperglass Corp. is modified by anyone other than Temperglass Corp., all warranties shall be void.
This Lifetime Warranty does not cover loss or theft.
WE LOVE BUILDING THE BEST
SHOWER
DOORS