GLASS BARN DOOR

From traditional to modern or geometric to simple, a sliding barn door is the perfect way to add an architectural element to any room.
The term Sliding Glass Barn Door is an often used by the interior design community to describe modern sliding glass doors. This style of door is used throughout the world with ever increasing popularity.
A swing door can take up to 10 times the amount of floor space of a sliding door, permanently wasting space such as an entire corner or section of a room. The use of glass sliding doors allows you great options to enhance décor and let in varying levels of light to create an open spacious feel, ambience, and elegance.
Space Saving
Glass Barn Door create more usable space as compared to swing doors on hinges
Design with Style
Glass is modern, contemporary, & aesthetically appealing to enhance décor
Reduce Barriers
Glass Barn Door are a great tool for designers to create barrier free design plans
Glass Options
Many glass options available to let light in for an open spacious feel or to obscure it for privacy
Eco Friendly
Use of natural daylight through the glass saves on electricity for ongoing energy savings
Easy Access
Glass Barn Door allow for larger objects to move in and out of a space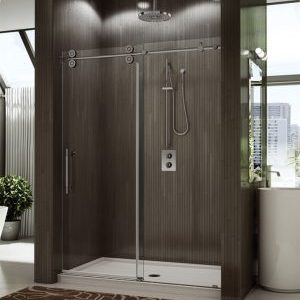 Get a Free Quote now!
YOUR SHOWER DOORS SPECIALIST IN SOUTH FLORIDA
FLORIDA SHOWER DOORS – TEMPERGLASS HAS EXACTLY WHAT YOU'RE LOOKING FOR!
We have a selection of shower doors in Florida for every budget. We offer you only the highest quality shower doors and all South Florida region to your full satisfaction. We can meet all of your needs from a basic door to one with the most elaborate design; mirrors with and without bevel; table tops with a variety of shapes and thickness; European look shelves and brackets. Our Framed Doors come on these high quality anodized finishes: Silver (Chrome), Gold (Brass), Nickel, Brushed Nickel, Oil Rubbed Bronze and White.
AN IDEAL CHOICE FOR SHOWER DOORS!
Our team of experts is highly trained in every glass related work, for commercial and residential. In our shower door store, we offer you tempered and laminated glass options for 1/4", 3/16", 3/8", 5/16", 1/2" and 3/4".
All parts and finishes of any hardware provide by Temperglass on shower enclosure installation is warranted to the original consumer purchaser to be free from defects in material and workmanship for as long as the original consumer purchaser owns their home. Temperglass will replace, FREE OF CHARGE, during the warranty period, any Hardware part or finish that proves defective in material and/or workmanship under normal installation, use and service.
Temperglass Corp. does NOT warrant against Glass Breakage, glass surface damage, chips or scratches on glass.
The tempered safety glass sold and installed by Temperglass corp. is warranted to have been manufactured as applicable International Building Code standard.
This warranty does not cover any claim arising from abuse, misuse, negligence, leakage, abrasives, accidents, improper operation, or natural disasters. This warranty pertains exclusively to shower enclosures and its hardware.
If the work performed by Temperglass Corp. is modified by anyone other than Temperglass Corp., all warranties shall be void.
This Lifetime Warranty does not cover loss or theft.
WE LOVE BUILDING THE BEST
SHOWER
DOORS