Florida Frameless shower door
FLORIDA FRAMELESS SHOWER DOOR


There are two remodeling projects that offer the best return on investment for homeowners – bathroom and kitchen remodeling. When it comes to remodeling your bathroom, there are a few major areas to focus your attention on. This includes the toilet, the sink, and the shower.
Over the past few years, frameless shower doors have become a popular option. If you are not familiar with frameless doors, then learn a little more about their benefits.
Frameless Shower Doors Offer a More Contemporary Look
For those trying to achieve a contemporary look, frameless shower doors are your best option. The seamless edges and elegant design of frameless doors help make your bathroom look bigger and provide a better view of the details of your shower. There are no visible frames, creating a sleek and modern design.
Frameless Shower Doors Are Easier to Clean
Another benefit of choosing frameless shower doors is that they are easy to clean. Without tracks or frames, there are fewer spots for mildew and mold to spread. This cuts down on time spent cleaning, helping to keep your bathroom healthy and sanitary. They also have a longer service life than framed doors, as they are less likely to rust or corrode.
Frameless Shower Doors Are Durable
In order to support the doors and the opening and closing function, frameless shower doors are made out of durable materials. The thicker glass also helps frameless doors outlast framed shower doors.
They Are Available in Multiple Designs and Styles
You will also have a large selection of designs and styles to choose from. While frameless shower doors work best with contemporary designs, you should be able to find options that will match any style or décor that you choose for your bathroom.
You mostly have three choices when deciding on doors for your shower. You can either choose framed, frameless, or an open design without any doors. Out of these three options, frameless doors provide the most contemporary look, along with durability and design options. If you are currently planning on remodeling your bathroom, consider frameless shower doors.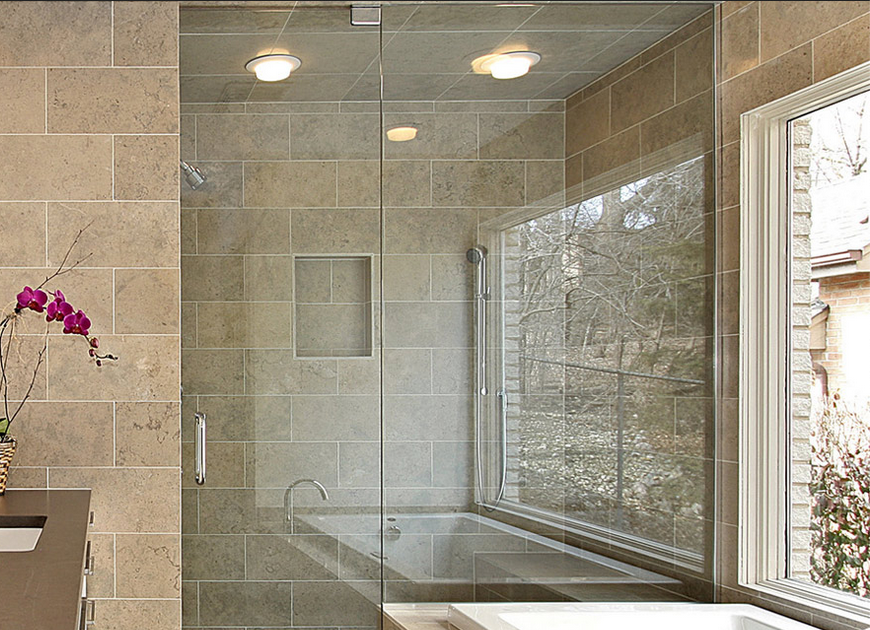 Get a Free Quote now!
Temperglass has exactly what you're looking for!
We have a selection of shower doors in Florida for every budget. We offer you only the highest quality shower doors and all South Florida region to your full satisfaction. We can meet all of your needs from a basic door to one with the most elaborate design; mirrors with and without bevel; table tops with a variety of shapes and thickness; European look shelves and brackets. Our Framed Doors come on these high quality anodized finishes: Silver (Chrome), Gold (Brass), Nickel, Brushed Nickel, Oil Rubbed Bronze and White.
An ideal choice for shower doors!
Our team of experts is highly trained in every glass related work, for commercial and residential. In our shower door store, we offer you tempered and laminated glass options for 1/4", 3/16", 3/8", 5/16", 1/2" and 3/4".
All parts and finishes of any hardware provide by Temperglass on shower enclosure installation is warranted to the original consumer purchaser to be free from defects in material and workmanship for as long as the original consumer purchaser owns their home. Temperglass will replace, FREE OF CHARGE, during the warranty period, any Hardware part or finish that proves defective in material and/or workmanship under normal installation, use and service.
Temperglass Corp. does NOT warrant against Glass Breakage, glass surface damage, chips or scratches on glass.
The tempered safety glass sold and installed by Temperglass corp. is warranted to have been manufactured as applicable International Building Code standard.
This warranty does not cover any claim arising from abuse, misuse, negligence, leakage, abrasives, accidents, improper operation, or natural disasters. This warranty pertains exclusively to shower enclosures and its hardware.
If the work performed by Temperglass Corp. is modified by anyone other than Temperglass Corp., all warranties shall be void.
This Lifetime Warranty does not cover loss or theft.
WE LOVE BUILDING THE BEST
SHOWER
DOORS